After I purchased my SLB holster I immediately throw away my crappy kydex holster I had for my KJW KP-09 CZ-75 Action Air pistol. (KJW stands for Kuan-Ju-Works.)
Only problem is that in SLB quick draw holster the pistol is held in place from the front picatinny rail (present CZ-75 SP-01 Shadow) which obviously my Action Air pistol did not have.
One viable solution would have been to purchase older style SLB front support part, but I don't feel comfortable screwing and unscrewing that part every time I'd change from ActionAir to Shadow.  And I really like the picatinny solution for Shadow so I had to figure out another solution.
After 1 hour of brainstorming and many nearly-cut-myself-with-knife -situations later… meet the DIY Action Air support for  SLB!
Pardon the grinding marks, but the tools I used to make this out of PE plastic were: knife, sandpaper, file and tears (I have all of my tools elsewhere, so I had to live with what I had in hands) When I have opportunity I will give this part a quick heatgun treatment to melt all plastic lint and scratches away. 
I can attach and detach this part in seconds and because it is sitting tightly between aluminium support and the original picatinny holder it won't move anywhere.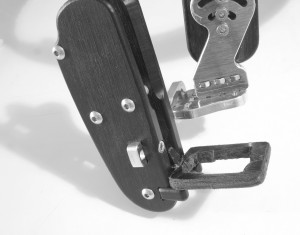 And final picture with my trusty Action Air CZ-75