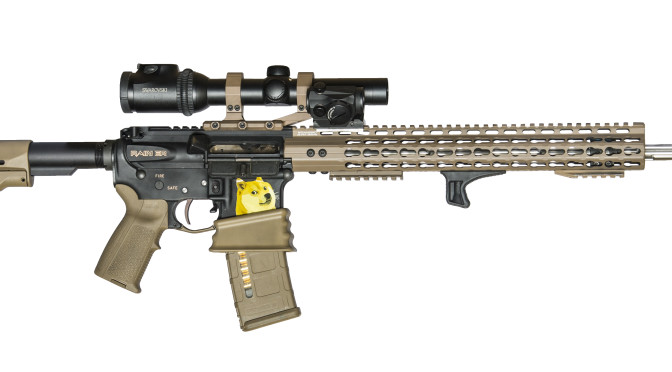 Last season (2014) I decided to try shooting in Open Rifle Division and started more detailed specification (i.e. spreadsheet) on will be in the rifle.
Initial specs were pretty simple with at least 15 inch free float and 1-6x variable scope, but soon came more complicated. First I was thinking about a carbon float but with some insights from an experienced gunsmith and thorough browsing through the web I came to conclusion that a slim keymod float would be the choice:  keymod is mostly holes –> light, but enables accessories and slim profile (1½") gives better grip and adds to lightness, still being stiff enough. At the moment I couldn't find many ways to acquire 15+ inch slim keymods to Finland so I went with Leapers UTG in FDE and thus started acquiring also the magpul parts in FDE.
I had grown fond of Magpul MIAD grip (with the largest back piece) in my two other rifles (Standard and Minirifle) so that was the obvious choice for this build too. The A2 stock was also a little clumsy on some specific stages and adjustable stock would have had it's place. I was wondering between Commercial- or MilSpec, when I found out that Commercial stock can be extended further than the MilSpec enabling a setting for proper eye-relief in both prone and standing positions as head is usually on more forward position on prone and some other specific shooting positions (more about this on a later post). Combined with a proper pull length for my physique/shooting style, the longer setting has its place (at least when shooting with t-shirt instead of plate carrier which would add to the pull length). So the stock was selected to be Magpul CTR Commercial Spec.